UV PHONE SANITIZER WITH WIRELESS CHARGER
Style #: SPP105J - UV PHONE SANITIZER WITH WIRELESS CHARGER
ABS Plastic device sanitizing function kills approx. 99% of germs from your smartphone when used properly.
Power/Technology: Power/Technology: Input: 5V/2A; Wireless Output: 5W; Wireless charging distance: ≤6MM (≤0.23")
2 sanitizing modes: 90 seconds and 5 minutes. (Shorter time for smaller devices)
Sanitizer compartment measures approx. 7"w x 4"h x 2.5"d
Includes instructions and USB to USB C charging cable.
FCC Approved.
Not intended for medical use; not recognized by the CDC or FDA as safe or effective against COVID-19 or any virus; no guarantee item will protect user from any illness.

Special Pricing by Quantity
| Quantity | 10-24 | 25-49 | 50-149 | 150 |
| --- | --- | --- | --- | --- |
| Regular Pricing | 42.49 | 41.24 | 39.99 | 38.74 |
| Special Pricing | 33.99 | 32.99 | 31.99 | 30.99 |
We Accept All Major Credit Cards
Email Iris@VolunteerGifts.com to find out how to receive a Free Setup
Setup Charge: Applicable on Personalized or Customized orders
***Contact us to find out how to receive FREE SETUPS***
Full Color Art Proofs & Samples
Available upon request
*On imprinted products, please allow for overages and/or underage's of up to 5% of the total quantity of your order.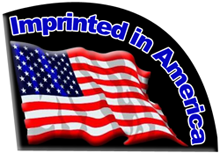 Imprinted In America(500+ U.S. Jobs)
All items marked with this insignia on our website are imprinted & shipped from our five major supplier warehouses from coast to coast. Your logo imprints are fully designed and imprinted in the USA and our suppliers employ over five hundred people in USA for the design imprinting, administration, and/or shipping of EVERY PRODUCT you order from this website.